On Tuesday 21 November 2023 No Cold War, Viva Salud and the People's Health Movement invite you to an important international webinar on the 'Urgent Medical Crisis in Gaza.'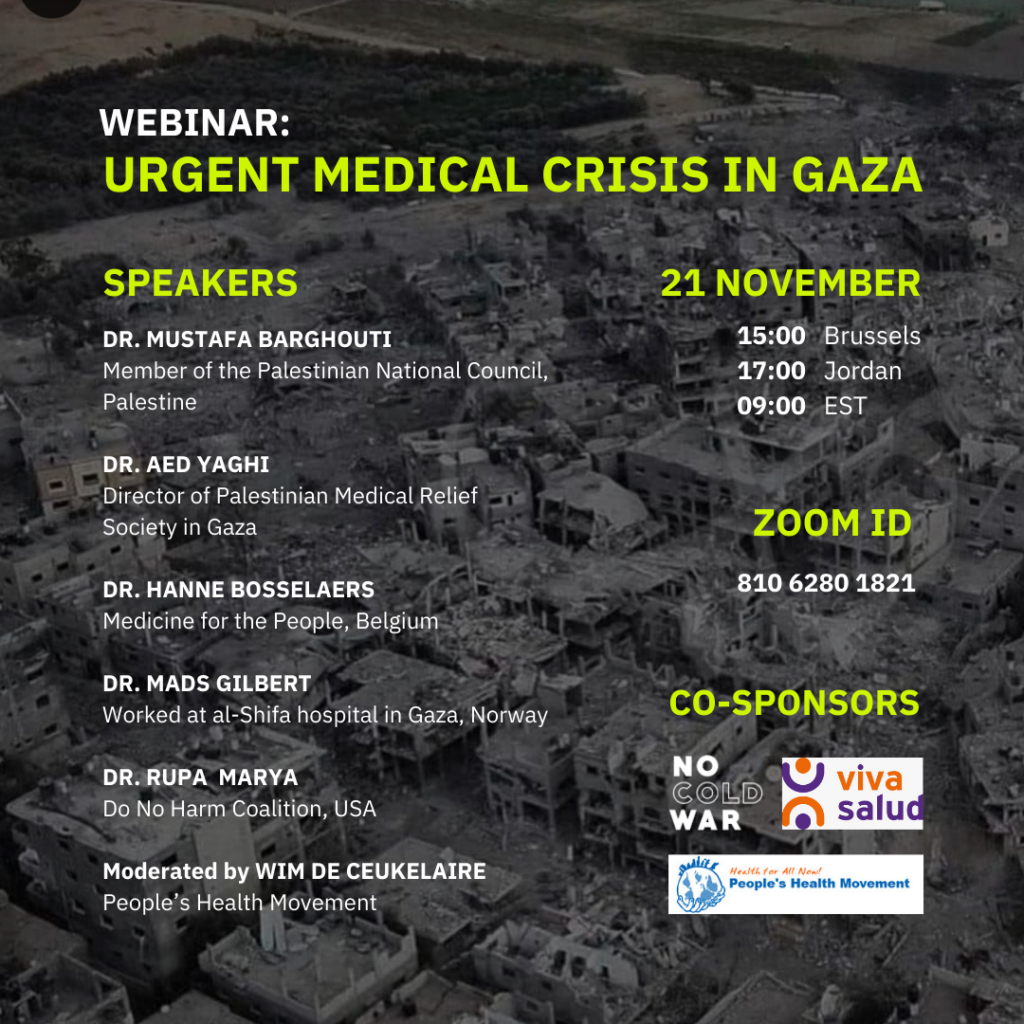 15:00 Brussels | 17:00 Jordan | 09:00 EST
Join us on zoom by clicking here.
Webinar ID: 810 6280 1821
Speakers:
Dr. Mustafa Barghouti, Member of the Palestinian National Council Palestine
Dr. Aed Yaghi, Director of Palestinian Medical Relief Society in Gaza
Dr. Hanne Bosselaers, Medicine for the People (MPLP), Belgium,
Dr. Mads Gilbert, worked at al-Shifa hospital in Gaza, Norway
Dr. Rupa Marya, Do No Harm Coalition, USA
Moderated by Wim De Ceukelaire, People's Health Movement
"We are witnessing the destruction of life and property on a horrific scale," WHO Director-General Dr. Tedros Ghebreyesus said in reference to the current Israeli aggression on Palestine. In Gaza, the health sector is on the front lines of the war. At least 200 doctors, nurses, and paramedics have been killed. Some 25 hospitals and 250 medical facilities are out of operation. More than 2,000 patients with cancer; 1,000 with kidney disease; 50,000 with cardiovascular disease and 60,000 with diabetes are at risk amid treatment interruption. Up to 200 women are giving birth every day in the worst imaginable conditions.
Health conditions are deteriorating fast. Numbers of respiratory and skin infections, as well as malnutrition are on the rise. Cases of diarrhea are rampant as the sewage system breaks down. Even on the West Bank, health conditions are deteriorating and health facilities are targeted by the Israeli occupation forces.
This webinar will pay tribute to the Palestinian doctors and health professionals who are still providing service to their communities in spite of these dire conditions. It will also discuss the challenges they face on the terrain and provide examples of the solidarity among their colleagues and friends abroad. Finally, it will put forward some conditions and demands necessary to bring health, safety and humanity back to patients and health workers alike, with an unconditional 'ceasefire now' as a starter.